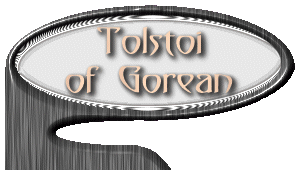 Welcome to my little homestone on the web.


I am MagLev Tolstoi, a citizen of the world Gorean within Active Worlds. What is Active Worlds? Oh you will have to go there to find that out. The link is provided for you.
Anyway, this site is just a little something I threw together as I felt I wanted a place to speak my thoughts, tell about my friends, and family. And show off my lovely kajirae.
So here it is, but before you go anywhere I gotta get the legal mumbo jumbo outta the way.
Any mentions of slavery herein are referring to consensual slavery which is NOT illegal (contrary to what many will tell you). This lifestyle is not for many, but anyone who is interested is always welcome to learn. Due to the adult nature of some of our subject matter (sorry no porn here), it is recommended that all viewers of this site be 18 or older. All images and html are copyright to MagLev Tolstoi (copyright 2000) unless otherwise indicated.
OK thats out of the way *smile*, enjoy the site.